INDEX

Peace, Nuclear Weapons and Governance Issues in Asia
[Ajia no Heiwa to Kaku]

Supervised by the Hiroshima Peace Institute, Hiroshima City University (Kyodo News, 2019)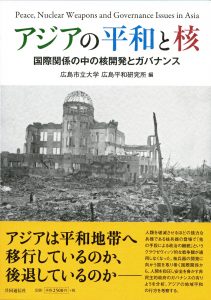 ISBN978-4-7641-0710-6
Asia is considered as a zone without war, but it has never been a peaceful zone either. The governance systems within the region are diverse, and some non-democratic nations are involved in significant human rights violations. In addition, an arms race has developed in the name of national security, and military tensions continue unabated.
Researchers at the Hiroshima Peace Institute and the editorial board from the Kyodo News analyzed the current nuclear weapons and governance issues of Asia, along with Japan's security policy and the future of regional peace.
      For further information, please visit our Japanese page.