INDEX

HPI Research Forum on November 20, 2017
〝Thailand's Post-2014 Coup Foreign Relations: Riding on the New International Trend″ 
 By Dr. Pavin Chachavalpongpun, Associate Professor, Center for Southeast Asian Studies (CSEAS), Kyoto University
The Hiroshima Peace Institute held an HPI Research Forum as follows: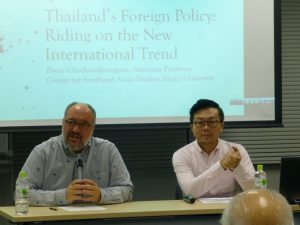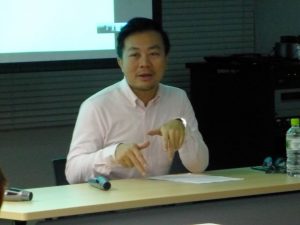 1. Topic
"Thailand's Post-2014 Coup Foreign Relations: Riding on the New International Trend"


2. Lecturer
Dr. Pavin Chachavalpongpun, Associate Professor, Center for Southeast Asian Studies (CSEAS), Kyoto University


3. Date and Time
November 20, 2017 (Mon.) 18:00-20:00


4. Venue
Seminar Room 2, Satellite Campus, Hiroshima City University
9F Otemachi Heiwa Building, 4-1-1 Otemachi, Nakaku, Hiroshima


5.  Abstract of the Forum
The coup of 2014 represented a watershed in Thailand's political history. The coup was initiated as a crucial plot in managing the imminent royal succession of King Bhumibol Adulyadej's long reign. The military was anxious that the remaining influence of the Shinawatras could rise to dominate the post-Bhumibol political domain, now under King Vajiralongkorn, Bhumibol's son. Driven by such anxiety, the military staged the coup that was popularly supported by Bangkok's middle and upper class residents. The two events, the coup of 2014 and the royal succession unveiled the volatility of the Thai political system, and in the realm of foreign affairs. China has emerged to shift the regional balance of power and contest the hegemony of the United States. Riding on regional challenges to democracy, the Thai military government is tilting the country closer towards not-so-democratic states in the region while moving its foreign policy away from its traditional allies in the West.


6. Profile of Pavin Chachavalpongpun
Pavin Chachavalpongpun obtained his Ph.D. in Political Science from the School of Oriental and African Studies at the University of London in 2002. After serving as a fellow at the Institute of Southeast Asian Studies (ISEAS), Singapore, since 2012 he has been associate professor at the Center for Southeast Asian Studies, Kyoto University. His area of specialization is foreign policy analysis. He is also interested in Thai politics, and international relations among mainland Southeast Asian states. He is the author of A Plastic Nation: The Curse of Thainess in Thai-Burmese Relations and Reinventing Thailand: Thaksin and His Foreign Policy. He is also the chief editor of Kyoto Review of Southeast Asia, the only online journal which presents all articles in English, Japanese, Thai, Bahasa Indonesia and Vietnamese. After the coup of 2014, he was summoned for being critical of the military and monarchy. As a result, a warrant was issued for his arrest and his passport was revoked, forcing him to apply for refugee status in Japan.