INDEX

HPI Research Forum on November 30, 2017
〝Solid cancer mortality among workers in the International Nuclear Workers Study (INWORKS)″ 
 By David Richardson, Associate Professor of Epidemiology in the School of Public Health at the University of North Carolina at Chapel Hill


The Hiroshima Peace Institute held the HPI Research Forum as follows: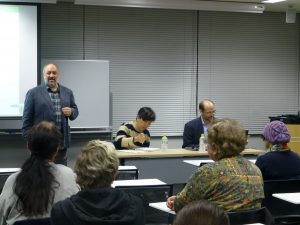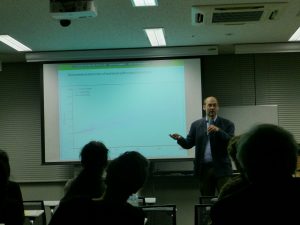 1. Topic
"Solid cancer mortality among workers in the International Nuclear Workers Study (INWORKS)"

2. Lecturer
David Richardson, Associate Professor of Epidemiology in the School of Public Health at the University of North Carolina at Chapel Hill

3. Date and Time
November 30, 2017 (Thu.) 18:00-20:00

4. Venue
Seminar Room, Satellite Campus, Hiroshima City University
9F Otemachi Heiwa Building, 4-1-1 Otemachi, Nakaku, Hiroshima

5. Abstract of the Forum
The initiation of the Manhattan project in 1943 marked the emergence of the discipline of health physics and an expansion of research on the health effects of ionizing radiation.  The health effects of occupational exposure to radiation were viewed from different perspectives by different members of the Atomic Energy Commission (AEC).  There were those with immediate concerns and a focus on issues related to wartime production and health effects which were definite biological changes which are immediately evident or are of prognostic importance to health. Others had an interest in a more general understanding the effects of radiation on human health, including long term and genetic consequences.   There were also managerial concerns, which persist today; Stafford Warren, medical director of the program, encouraged health research to help strengthen the government's interest in case of lawsuits or demands for workers' compensation. These concerns motivated a large scale epidemiological program of research on nuclear workers. Beginning in the mid-1980's, numerous publications on cancer among workers at nuclear facilities appeared, mostly in the US and UK. Risk estimates from individual studies were uncertain, with wide confidence intervals; and, positive associations between radiation and cancer were observed in some, but not all cohorts.  To summarize results across studies and improve statistical precision, pooling projects were undertaken.  I will briefly review the history of these pooled studies and then present results from the most recent, largest, and most informative of these analyses, known as INWORKS.  This is a combined study of 308,297 nuclear workers from the United Kingdom, France, and the United States of America.   Quantitative results will be presented and the strengths and limitations of INWORKS will be discussed.


6. Profile of David Richardson
David Richardson earned his PhD from the Epidemiology in the School of Public Health at the University of North Carolina at Chapel Hill. His research focuses on the health effects of exposure to ionizing radiation.  He has conducted studies of cancer among nuclear workers at several U.S. Department of Energy facilities, as well as studied cancer among the Japanese survivors of the atomic bombings of Hiroshima and Nagasaki.  He has served as a visiting scientist at the World Health Organization's International Agency for Research on Cancer in Lyon, France and at the Radiation Effects Research Foundation in Hiroshima, Japan.  He is an Associate Editor of the journals Occupational and Environmental Medicine and Environmental Health Perspectives; and, he is a member of the President's Advisory Board on Radiation and Worker Health.