INDEX

HPI Research Forum on December 22, 2018
〝Considering Peace and Poverty: Toward a Renewal of the Concept of Peace″ 
By Dr. Tomonori Ishioka, Associate Professor, Faculty of Education, Hokkaido University

The Hiroshima Peace Institute held an HPI Research Forum as follows: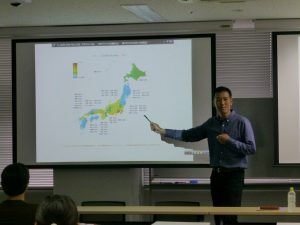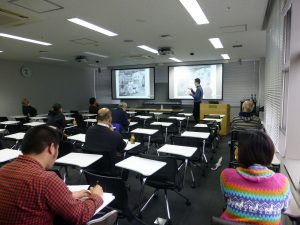 1. Topic
"Considering Peace and Poverty: Toward a Renewal of the Concept of Peace"
2. Date & Time:
December 22, 2018, Saturday, 13:00-15:00

3. Venue
Seminar Room 2, Satellite Campus, Hiroshima City University
9F Otemachi Heiwa Building, 4-1-1 Otemachi, Naka-ku, Hiroshima
4. Abstract of Forum
This presentation considers emerging issues such as social exclusion, new poverty and the precarious nature of life, which have only become apparent in the 21st century society. I have conducted ethnographic inquiries in poor urban communities in Manila, and the current study dissects the issue of poverty in contemporary Japan through the lens and the knowledge obtained from my research in the Philippines. To accomplish this investigation for the discipline of peace and conflict studies, arguments are developed regarding the everyday notion of security among the vulnerable population, rather than international security. The 20th century is represented as 'age of extremes'. Therefore, in the 21st century, a moderate, tolerant and peaceful society should have been realized. In fact, despite the current social and technical advances, an increasing number of people remain trapped in conditions of poverty. The results of this study reveal that the social problems of the 19th century are reappearing in the 21st century. How can sociology confront such a situation where everyday life collapses? What does 'living in peace' really refer to? This presentation will strive to discuss peace as an issue of daily routines, and not just as an international circumstance.

5. Profile of Tomonori Ishioka
Tomonori Ishioka has conducted extensive field research in Manila, Philippines, focusing on urban underclass and is an author of award winning book, Local Boxer and the World of Poverty: Body Culture of the Boxing Gyms in Manila (Sekai shiso-sha, 2012) and many books and articles, including "Boxing, Poverty, Foreseeability: An ethnographic account of local boxers in Metro Manila, Philippines" (Asia Pacific Journal of Sport and Social Science 1(2) 143-155, 2013).