Hiroshima City University
Online briefing session on admission in November 2020
Online briefing session on admission in November 2020

The Graduate School of Peace Studies (Master's Program/Doctoral Program) will conduct an online briefing session on admission via Zoom Cloud Meetings. Please register in advance for this briefing session.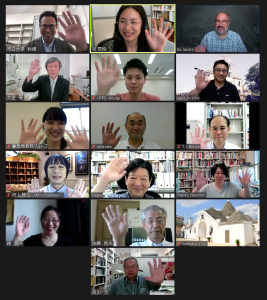 ▶For information on the last session


1

Date & Time:

November 6th, 2020 (Friday)
18: 30 – 20: 00



2

Contents:

Briefing session on admission to the Graduate School of Peace Studies 

Part 1  (15 min)  
Features of the Graduate School, faculty members and curriculum 

Part 2  (15 min)  
Outline of the entrance examination

Part 3  (10 min)
Brief introduction by current graduate students

Part 4  (50 min)
Q&A: Individual consultation session  



3

How to participate:

1. Application via email
●Please send an email to the Hiroshima Peace Institute Office.
E-mail: office-peace&m.hiroshima-cu.ac.jp
(Please replace & with @ when sending an E-mail.)

● Items to be described in the application email:
① Affiliation
② Full name
③ Course under consideration (MA Program or PhD Program)
④ Name of the teacher(s) you want to consult individually
⑤ Questions (if any)

● Deadline
October 30 (Friday)

2. Confirmation email from the Hiroshima Peace Institute office
We will inform you of the Zoom meeting ID and password to attend the briefing session.

3. Download "Zoom Client for Meetings" and install it on your PC or smartphone
https://zoom.us/download

4. On the day of the briefing session
Using the meeting ID and password, log in to Zoom Meeting.


Please click the pictures below to see the Japanese Flyer (pdf).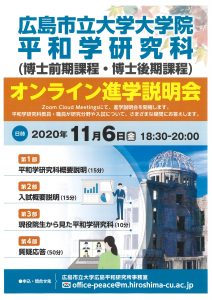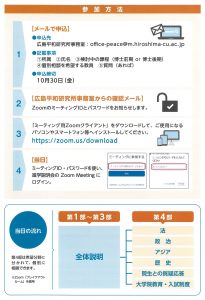 *************************************************************   
Secretariat, Hiroshima Peace Institute, Hiroshima City University
Phone:082-830-1811 Fax:082-830-1812 
E-mail: office-peace&m.hiroshima-cu.ac.jp
(*Please replace & with @)