Hiroshima City University
Commemorative lectures and briefing session to be conducted in October
Commemorative lectures for the establishment of the Graduate School of Peace Studies &
briefing session on admission to be held on 27 October, 2018
Hiroshima City University will establish the Graduate School of Peace Studies in April 2019. Prior to opening the Graduate School, we will hold a commemorative lecture meeting by two professors who will join the graduate faculty from next April. Following the lectures, a briefing session on admission to the Graduate School will be held.

Date & Time: October 27, 2018 (Saturday) 13:30-17:00

Venue: Hiroshima City University Satellite Campus
            (Otemachi Heiwa Building 9th Floor, 4-1-1, Naka-ku, Hiroshima-shi)

Commemorative lectures 13:30-15:10

Lecture I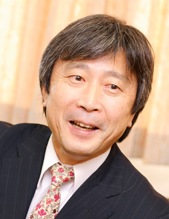 "Global governance and world order"
Ryo OSHIBA (Professor, Aoyama Gakuin University)

Lecture II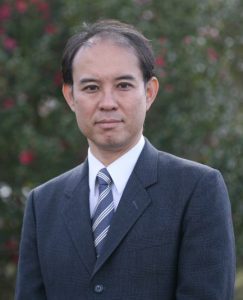 "Climate change issues: How international society is responding"
Satoshi OKIMURA (Professor, The University of Shimane)


Briefing session on admission 15:30 – 17:00
・Introduction of the features of the Graduate School of Peace Studies, faculty members and curriculum
・Explanation of the outline of the entrance examinations.
・Individual consultation session
    Please note that the lectures and the briefing session will be conducted in Japanese.
    For consultation, you might be able to use other languages depending on the faculty you consult.

[How to apply]
Please apply by fax or e-mail with your name / telephone number / e-mail address / participation classification; [both lectures and the briefing session], [lectures only], or [the briefing session only].

[Application deadline]
October 24, 2018 (Wednesday)

[Capacities for the lectures]
60 people (first-come-first-served basis)
* If applications exceed maximum enrollment, we will prioritize those who participate in the briefing session.

[Contact information]
Secretariat, Hiroshima Peace Institute, Hiroshima City University
Phone:082-830-1811  Fax:082-830-1812
Email: office-peace&m.hiroshima-cu.ac.jp
*Please replace & with @.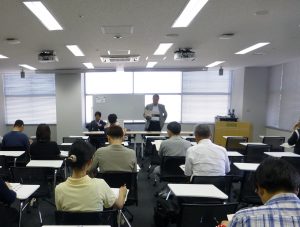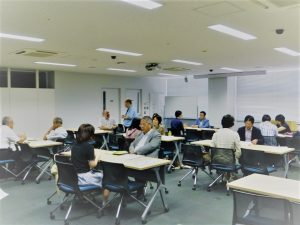 Briefing session conducted in August, 2018.  At an individual consultation session, participants directly met with faculty members.