Hiroshima City University
Department of Painting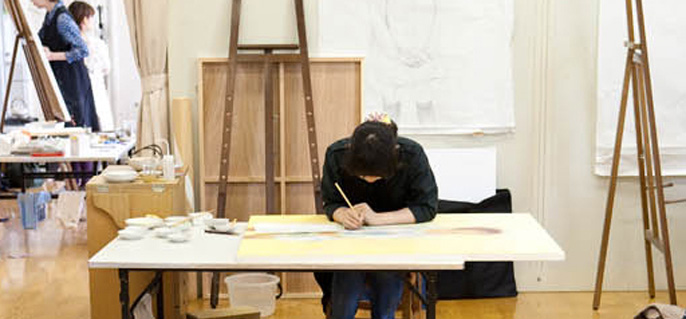 Graduate School of Arts (Master's Degree Prgogram)
Department of Painting
Developing the ability to create a unique body of work through the study of classics
Education and Research Outline
Our department focuses on a rigorous inquiry into Japanese Painting and Oil Painting.
In the Japanese Painting program, students are expected to have a strong material and conceptual base in classic works, explore various aesthetic sensibilities, and further augment their skills to create unique studio work pertinent to contemporary art practice. The department focuses on two main aspects: 1) Fostering each student to produce a unique body of work, and 2) Providing students with a diverse array of mediums and techniques, as well as skills to engage in the reproduction of classic works.
In the Oil Painting program, students develop an aesthetic sense through theoretical and conceptual training and their applications through the mediums and techniques of this field. Through a comprehensive investigation into Western Painting, students will hone their skills and further develop their personal work. The Department of Oil Painting focuses on the following two aspects: 1) A rigorous study into Western painting, and 2) The exploration of mediums and techniques used in contemporary Western painting, including print media.
Faculty members
Division
Position: Name
Japanese Painting program

Professor:WARAYA, Minoru
Professor:IMAMURA, Masahiro

Associate Professor:MAEDA, Chikara


Associate Professor:ARAKI, Kyouko

Oil Painting program

Professor:MORINAGA, Shoji
Associate Professor:SHIMIZU, Jiou

Associate Professor:ISHIGURO, Kenichiro

Associate Professor:TSURITANI, Kouki

Lecture:SATO, Yasutaka

Art History & Theory

Professor:SEKIMURA, Makoto
Associate Professor:JOICHI, Mariko
Associate Professor:ISHIMATSU, Noriko