Hiroshima City University
Graduate School of Information Sciences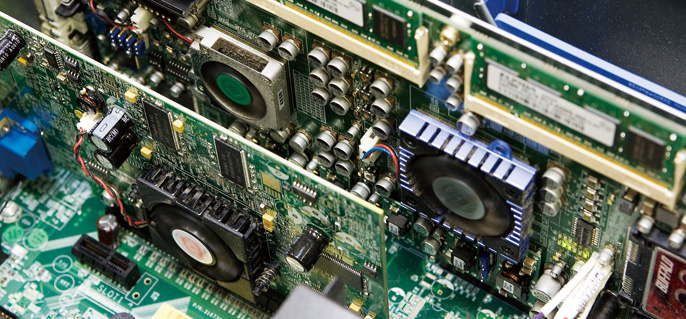 Master's Degree Program
Introduction
The 21st century will see the progression of an advanced information-communication society in which information technologies are the foundation of all aspects of society, promoting economic and cultural activities of a new era.
In order to play a significant role not only within Japan, but on an international level, it is necessary to advance research and train future leaders in information technology and information-related fields.
The Graduate School of Information Sciences aims to meet this demand by promoting both theoretical research and scientific technologies and by training future researchers and engineers in research and development.
Through this program, students at this level will acquire the skills to:
1.Research and apply elemental technologies for computers and networks, and create next-generation computers and networks.
2.Process and organize information in order to meet various forms of communication within a knowledge-based society.
3.Develop advanced systems for harmonious relations between humans, computers, and mechanical systems.
4.Establish a new level of monozukuri, the Japanese art of creative manufacturing, to adapt to evolving trends, through the integration of information sciences, physics, chemistry, and biology.
5.To conduct creative research through independent studies and projects.
Students will acquire international perspectives and skills of analysis, planning and judgment, in order to conduct independent, specialized and interdisciplinary research.
Depending on their thesis topic, students are eligible for either a Masters in Information Sciences or a Masters in Computer Engineering.
Features of our teaching and research:
1.Highly specialized, integrates science and engineering and covers a wide range of subjects from mathematics, basic logic and computers, Artificial Intelligence (AI) to human interfaces.
2.A wide range of classes which provide both academic and practical knowledge from basic to applied levels, in order to meet the sophistication and diversity of Information Sciences.
3.A flexible semester system, in which students have the option of completing all courses within a year.
4.A series of core classes taught by each department, in order to provide students with specialized knowledge.
5.Independent projects and studies assigned to students to help them develop the creativity and independence necessary to become skilled researchers and engineers.
6.Students can acquire cutting-edge advice and wisdom through guest lecture given by speakers at the forefront of the field.
7.All teaching and research is assisted by state-of-the-art multi-media networks.
Faculty members
Department of Computer Network Engineering
Department of Intelligent Systems
Department of Systems Engineering
Department of Biomedical Information Sciences