Hiroshima City University
Graduate School of Arts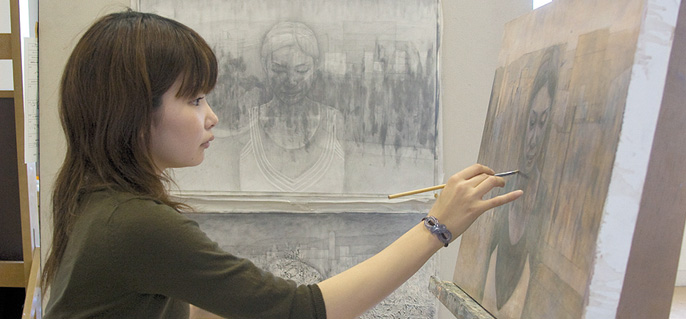 Graduate School of Arts: Doctoral Degree Program
Graduate School of Arts

Comprehensive Design and Arts (Doctoral Degree Program)
Advanced degrees in education and research in the arts for the promotion of local culture through professional creative practices.
Education and Research Features
1.A rigorous and dynamic research and education program further developing professionals in creative practices, placing importance on classics studies, and creating interpretations of traditional art and culture through a contemporary perspective.
2.An innovative program, pioneering new mediums and techniques to promote expressions compatible with a society oriented towards digital media.
3.Fostering the integration of advanced theoretical perspectives and advanced technical training for the production and application of creative expression.
4.Promoting local culture and international cultural exchange through art and culture, as well as providing education and research to support students in taking on leadership roles in society and the arts.
Education and Research Outline
In the Master's degree program, students focus on artistic expressions in their chosen field. At the doctorate level, students are expected to further their level of specialization in each field, placing greater emphasis on cross-departmental and theoretical education and research.
For this reason, the doctoral course is not divided into several departments as in the master's course, but functions as a single program under the rubric, "Comprehensive Design and Arts".
Faculty members
●Comprehensive Design and Arts
Division
Position: Name
Japanese-Style Painting
Professor:IMAMURA, Masahiro
Professor:MAEDA, Chikara
Associate Professor:ARAKI, Kyouko
Oil Painting
Professor:MORINAGA, Shoji
Professor : SHIMIZU Jiou
Associate Professor : ISHIGURO, Kenichiro
Associate Professor : TSURITANI,Kouki
Sculpture
Professor:ITO, Toshimitsu
Associate Professor : TANAKA, Keisuke
Associate Professor : IWASAKI, Takahiro
Design
Professor:YOSHIDA, Yukihiro(Product Design)
Professor:NOUJIMA,Masahiro(Visual Communication Design)
Professor:KASAHARA, Hiroshi(Digital Media)
Associate Professor :HUJIE, Ryutaro(Product Design)
Associate Professor : NAKAMURA, Kei(Visual Communication Design)
Applied Arts
Professor:NAGAMI, Fumito(Metal Design)
Professor:KURAUCHI, Hiroshi(Textiles)
Professor:OHTSUKA, Tomotsugu(Lacquer Arts)
Associate Professor : UCHIBORI,Gou (Metal Design)
Associate Professor:NODA,Mutsumi(Textiles)
Associate Professor : AOKI,Shinsuke (Lacquer Arts)
Contemporary Art
Associate Professor : FURUKATA,Taro
Art History & Theory
Associate Professor:JOUICHI, Mariko
Associate Professor:ISHIMATSU, Noriko
Associate Professor:ISHITANI,Haruhiro

You can choose a supervisor only from full professors.